Sunday, March 26, 2023, 3:00 pm
Westminster United Church
After a first collaboration around Gabriel Fauré, the Trio SR9 and Kyrie Kristmanson extend their beautiful meeting in a common adventure. They jointly imagine a program that crosses and intertwines their singular musical universes.
Together, they wish to highlight a repertoire consisting mainly of works of women, a repertoire crisscrossing the eras through original arrangements. A program of baroque, classic, romantic melodies but also of today's music worn by the voice of Kyrie Kristmanson and the various percussion of the SR9 trio, Marimba, Vibraphone, Crotales and a prepared piano.
This concert articulated in 3 parts is an ode to the composers, sometimes remained in the shadow of their contemporaries.
PROGRAMME:

Hildegard Von Bingen : O Virtus Sapientiae – arr. Grégoire Letouvet

Harriett Abrams : Crazy Jane – arr. Grégoire Letouvet

Meredith Monk : Parlour Games

Elizabeth Maconchy : Ophelia's song – arr. Grégoire Letouvet

Rebecca Clarke : June Twilight – arr. Grégoire Letouvet

Kyrie Kristmanson : Talk

Lili Boulanger : Pie Jesu – arr. Grégoire Letouvet

Pauline Viardot : Hai Luli – arr. Grégoire Letouvet

Kate Bush : In the warm room – arr. Grégoire Letouvet

Germaine Tailleferre : L'autre jour en m'y promenant – arr. Grégoire Letouvet

Beatritz De Dia : Estat ai en greu cossirier – arr. Grégoire Letouvet

Barbara Strozzi : Che si può fare

Kyrie Kristmanson : Wanton One

Hildegard Von Bingen : O Quam Mirabilis – arr. Grégoire Letouvet

Kyrie Kristmanson : Song X
It has been almost 10 years that the Trio SR9, founded by Paul Changarnier, Nicolas Cousin and Alexandre Esperet in Lyon, has been sharing its passion with audiences around the world. Having achieved their studies at the CNSMD de Lyon with Jean Geoffroy et Henri-Charles Caget, the three percussionists and friends decided to embark on this human and musical adventure.
The Trio was awarded the 1st Prize of the « Percussion Trio 2012 » organised by the International Percussion Competition Luxembourg (and also the public prize, and the « lalux » prize for the best interpretation). In 2012 the Trio won the European Music Ensemble Competition organised by FNAPEC, and received the fellowship of the Banque Populaire Foundation in 2016. The Trio has since then become recognised and widely acclaimed on the musical scene.
Strengthened by these experiences, the Trio SR9 initiated several new projects which all express an open attitude towards a wide range of aesthetics. Spanning various repertoires, the ensemble renews the interpretation of works from our musical heritage for three marimbas (Bach, Mendelssohn, Stravinsky, Ravel, etc.) and collaborates with composers (François Tashdjian, Florent Caron-Darras, Balint Karosi, Daniel Arango-Prada) on the creation of new pieces.
Beyond its musical eclecticism, the Trio SR9 is eager to explore new approaches of the performance and therefore collaborates with artists coming from different backgrounds. The three members of the trio have themselves expanded their experience of the stage by incorporating theatre and dance to their work.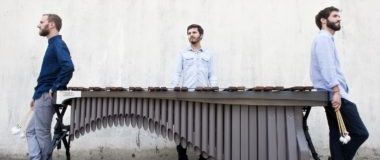 The shows produced by the trio reach all audiences and reflect an interdisciplinary research at the crossroads of artistic forms, genres and environments.
MACHINE(s) is the first show produced by the trio in 2015 with composers Pierre Jodlowski and Benoit Montambault. That same year, the trio tours with C O R P O R E L S and meets a young audience invited to discover a show built around multiple performing components and focusing on movement. In 2019, with the creation of JUKEBOX the Trio approaches theatre, dance and music alongside choreographer Simon Tanguy.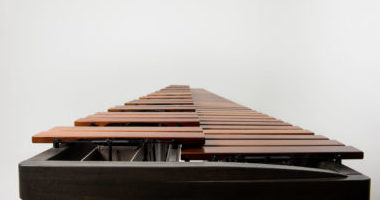 In parallel, the Trio SR9 leads recording projects and releases its first album "BACH au marimba" in October 2015 with label Naïve, based on a transcription work for three marimbas. In 2018, the Trio pursues this transcription work for the same instrumentation and releases its second album "Alors, on danse ?", also issued by Naïve.
The Trio SR9 is regularly invited to various radio programmes on France Culture, France Inter, FIP and France Musique (Carrefour de Lodéon, Génération Jeunes Interprètes, Génération France Musique). They were also the guests of Jean-François Zygel on the television show "La Zygel Académie" on France 2.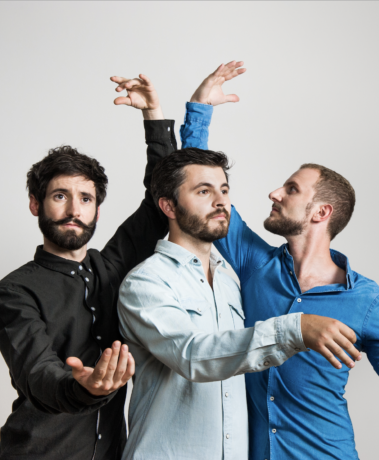 The Trio SR9 is frequent guest on French stages, invited to perform for festivals (Festival de la Chaise-Dieu, Festival Radio France in Montpellier, Festival International de Musique de Besançon, Flâneries Musicales in Reims, Festival "C'est pas classique" in Nice), and appears in prestigious halls such as the Opéra de Lyon, Maison de la Radio, Chapelle de la Trinité in Lyon…
The Trio SR9 regularly tours around the globe. Often invited in the USA (Institute of Contemporary Art / Boston, Lycée Français de New York), it also performs in Oceania (Canberra International Music Festival (AUS), The Piano Christchurch (NZ)), and Europe: Theaterhaus de Stuttgart (ALL), BOZAR de Bruxelles (BE), Bimhuis d'Amsterdam (NL), Muziekgebouw d'Eindhoven (NL), Drumworld Festival de Thorn (NL), etc.
Keen on sharing its experience, the Trio SR9 often holds masterclasses, namely at Boston Conservatory, Juilliard School, New York University, University of Canterbury in Christchurch, but also in French and European conservatories. In 2018, the Trio taught participants at the International Marimba and Percussion Festival in Pleven (Bulgaria).
The Trio SR9 is supported by the French Ministry of Culture (DRAC Auvergne-Rhône-Alpes), the Auvergne-Rhône Alpes Region, the City of Lyon, SPEDIDAM, ADAMI, Bureau Export, Banque Populaire Foundation and Institut Français. It has been member of the FEVIS network since 2020.
The Trio SR9 is sponsored by ADAMS percussion and RESTA-JAY percussions.
The Trio SR9 has been associate artists of the Théâtre Théo Argence in Saint Priest since 2018.
---
"Kyrie Kristmanson's direct yet otherworldly style seems like folk music from some isolated mountain or urban canyon. It will take you places you've never been."

– Robert Everett Green, The Globe & Mail
Kyrie Kristmanson is a Canadian singer/songwriter, trumpet player, guitarist and scholar of medieval music. She began composing at a young age and toured the Canadian Folk Festival circuit as a teenager. Public and college radio stations promoted her first two self-released albums and this earned her the Best Young Performer's Award at the Canadian Folk Music Awards in 2008 and the Colleen Peterson Award for songwriting in 2009. The same year, the French singer/songwriter Emily Loizeau invited her to open for her Pays Sauvage tour in France. While on tour, the French label NØ FØRMAT! offered Kyrie a recording contract and she relocated to Paris for the release of her Origin of Stars album in 2010.
For the subsequent tour, Kyrie performed in France, Germany, Austria, England and Japan and, following this, she enrolled at La Sorbonne to study the medieval trobaïritz, the first women composers known to history. In 2013, she defended her master's thesis dedicated to the reconstruction of their lost songs. A recording contract with the French label Naïve came next, for which she authored a song cycle inspired by the medieval repertoire.
Fascinated by Canadian composer Patrick Carrabré's classical arrangements of her songs for Origin of Stars, Kyrie recorded the new album with a string quartet. Alongside the French arranger and producer Clément Ducol, she recorded the work with the internationally acclaimed Voce Quartet at the Noirlac Abbey. The resulting album Modern Ruin was released in 2015 and she toured throughout Europe with various string quartets. This escapade into classical music led to an invitation to perform the melodies of Gabriel Fauré and to record them for Sony music on the album Ici-Bas, released in 2018.
While on tour with the Fauré repertoire, Kyrie met the musician/producer Saint Michel at his studio in an abandoned wing of the Versailles Castle. They began work immediately on a new song cycle that inspired by quantum physics. This collaboration culminated in the album Lady Lightly and Kyrie began the tour alongside the French physicist Etienne Klein who opened each concert with an introduction to quantum physics. The tour came to an untimely end with the onset of the pandemic.
During the lockdowns, Kyrie composed a song cycle for voice and romantic guitar entitled Floralia – Ode à la déesse Flora. She is currently preparing the tour with Julien Fouasnon-Boblet, a coach driver specialized in Percheron horses, and the scenographer Adeline Caron who creates exclusively with vegetation and candlelight. The album will be released in February 2023 and for the subsequent concert tour, Kyrie will travel from venue to venue by horse-drawn carriage.
Infused by the folk traditions of her native Canada and the songwriting culture of medieval France, Kyrie's compositions create a dialogue between worlds: an interstice where past and present combine to create a living vestige of a bygone time, half remembered and half dreamed.